If you've been following along with our wedding planning series this is the next blog in that series. If you didn't catch the last blog posts you can check them out here ( What Can A Wedding Planner Do For You?, Planning Hair & Makeup from Rawwbeauty, & 4 Tips for Planning Your Honeymoon)
This specific post is one that really hits home with Sara & myself. Flowers was one of the things that we really looked over on our wedding day. We thought " How hard can it be?" Turns out there is A LOT more to it than bundling up some flowers and calling it good as CeCe describes later in this post. Sara & I decided to skimp on hiring a professional florist for our wedding and decided to go the DIY route. Long story short our flowers were falling apart before our ceremony even started. Since our wedding last year we've learned so much about weddings and other wedding professionals. As wedding photographers our primary concern was photos and a good bit of other details were overlooked. Which lead for a pretty stressful day. Not just for us but for our families who did most of the work on the day of. We really wish we would have taken the stress off of them so us and our families could enjoy the day. But hey hindsight is always 20/20. Right?
Almost a year since our wedding we've shot a good many weddings and had the chance to notice and appreciate all the professionals that help make a wedding day perfect, But we've also noticed the ones where things could have gone a little better. We've shot weddings where brides have used fake flowers all the way to where brides have 20 pound bouquets. Now of course this is all depending on budget. All brides are different! Before I let CeCe take it over I just want to say. Florists are boutonniere pinning pros. Anyone who has tried to pin one and never done it before has probably ended up with pricked fingers and boutonniere that end up falling off. Sara and I have gotten pretty decent at it but nothing compares to the floral pros who do this several times a week.
Without further adieu, Christy from CeCe Designs!!!
---
My name is Christy Todd and I am the owner and principal designer at CeCe Designs and Events LLC. While CeCe Designs is experienced in handling all types of events, we hold a special place in our heart for weddings. Your wedding day is a magical moment and you deserve the best. Personalization is our top priority. We take the time to get to know each Bride's personality, style, and preferences. As a designer, my reward is not the price you pay, but rather knowing that I created the perfect flowers or event for your special day.
When you choose CeCe Designs for your event, me and my staff will have YOU in mind. Whether it be trendy or traditional, large or small, you will receive exceptional service, quality, and price. It is truly an honor to design and create special events and each will be done with dedication and professionalism.
Now that you know a little bit about us, we would like to thank Alex and Sara for asking us to share a little bit about why it is important to select a professional to design your wedding flowers and decor.  Wedding flowers can be expensive and a significant portion of your overall wedding budget, but choosing to do them yourself or having a family or friend try to do them could be even more costly.
Here's our list of reasons to hire a professional floral designer for your big day:
A floral designer specializing in wedding flowers is trained to be versatile.

 

They can create spectacular, one of a kind designer bouquets especially for your wedding day.

 

A bouquet that is unique to you and matches your personal style.

 

The picture below shows an example of one of the bouquets we did that was inspired by a Valentine's Day theme.



We have the equipment and staff to deliver your bouquets, set up your ceremony and reception sites, and coordinate the design for a beautiful look and backdrop for your pictures and memories.  Your loved one may offer to take care of this for you, but it rarely works out.  A professional floral designer knows that their reputation and future bookings depend on if your flowers show up looking flawless and how you envisioned.  A professional floral designer will also work with other vendors, like the caterer in the picture below, to create a perfect look.


You are not just paying for the flowers!!  You are actually paying for the professional designer's knowledge, expertise, equipment and talent.  You are paying for their knowledge in mechanics, their eye for design and color, and their knowledge of flowers.  For example, what flowers will last in a flower girl's halo, how to incorporate a succulent in a bouquet(they have no stem), or what will be in season for your wedding. You may save a few dollars by trying to have a DIY wedding, but you will have to purchase supplies you likely don't have and likely won't use again.  Floral wire, floral tape, clippers, floral knives, putty, buckets, preservatives and that's just the beginning.   If you were just paying for flowers and ANYONE could do it, we would all be out of a job.  It is way harder than it looks.  Every professional floral designer has stories of late night calls or wedding day emergency texts of brides crying hysterically because they can't get theirs done, they are all wrong, or they are all falling apart. 

Below you can see the beautiful artistry that goes into a halo, but what you cannot see is the detail that goes into ensuring that it does not come apart and will stay fresh for the entire wedding day.


Here is another example of an intricate design that requires the expertise to ensure that the flowers coordinate with the pipe and draping, the columns, and the event decor.  These are things that come with experience and knowledge that cannot be learned online or through Pinterest.



Make sure that you ask your potential designer for examples of their work.  Just like many people consider a DIY floral design, there are many people who claim to be "designers" that do not have any formal experience or training.  You should ask to see pictures of multiple weddings to get an idea of the designers capabilities.  Ask them how many years of experience they have, references from previous brides, and for reviews of their work on professional websites like Weddingwire or Borrowed and Blue.  The only thing WORSE than the disappointments of trying to do the wedding yourself as we've described in previous paragraphs, would be hiring someone you thought was a Professional, only to find out that they are not qualified to deliver on your vision.

The final reason for selecting a professional designer to create your flowers on your wedding day is one that actually applies to most of the services you will consider in your wedding budget. The money you save by doing it yourself isn't worth the stress!  This day was intended to make you feel special.  Your wedding day is stressful enough, and you should not add to it by worrying about whether your flowers will be done correctly, whether your photographer will know to get the right shot, or whether the food is prepared properly.  Allow yourself to be pampered on your wedding day.  Splurge and select the wedding professionals.  Allow the pros to handle the details of your day, and enjoy the love of your life!!
As we said at the very beginning of this blog, your wedding day is a magical moment and you deserve the best.  Find a professional floral designer that will take the time to get to know you and your vision, and then hire them and trust them to bring it to life.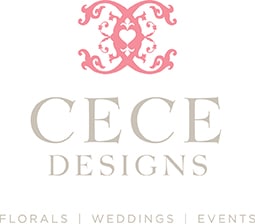 We hope that you will take the time to review our work at www.cecedesignsllc.com