­Shooting photography is an art. Much like writing, acting, dancing…and like any art, the magic is in the discovery, the spontaneity – the improvisation. I implore any artist to relish in this aspect of the various fields of artistry and I hope you enjoy my own little bit of self discovery that I have chosen to share below:
Our shoot with our clients, Britini and Dustin, started like any other. We set a location, time, and "shot list" and proceeded to get excited upon the upcoming opportunity to capture a couple's connectedness.
On the way to the pre-discussed location, Sara (my fiancé, second shooter, and assistant) and I passed an open field where we used to pass on a daily basis but we hadn't passed in the past few months – at least not since we moved away from the local area. So, as we passed it we noticed a lot had changed. It used to be a moderately well taken care of field with freshly mown  grass where kids and families could come throw a football or toss a baseball. However, when we passed it this day we noticed that the grass had grown high and had been unkempt for what looked like several months. (With winter peeking around the corner, most of the grass had started to die and turn that beautiful shade of orange-ish yellow. Sara  immediately said "We are changing locations and we are going to shoot here." Keep in mind this was roughly 20-25 minutes (just moments) before our session was planned to start. But, we both knew that we couldn't turn down the opportunity to shoot at this naturally charming location.
So after texting Britini and telling her "change of plans! I found a new place we are going to shoot." We began to unpack and scour the area for ample shooting spots. We found a few worn areas where other photographers had most likely done other sessions due to the flattened grass and cleared brush.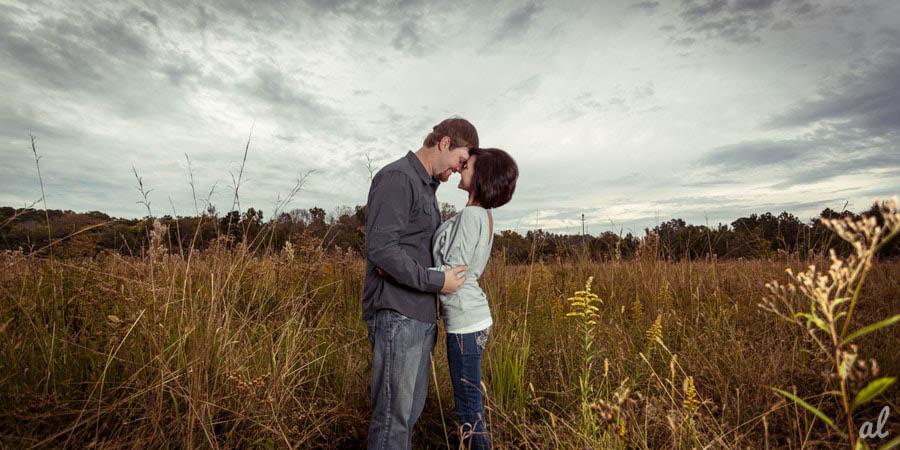 After walking around for a few moments, the wind shifted and clouds began to roll in over head. We stopped in that very spot when I got the idea to capture the "Epic Landscape Portrait Shot." It provided the perfect color and saturation for the photographic depth and contrast in our included shot below.  Although it isn't your typical engagement session shot, I had an idea, so I went with it. This turned out to be not only my favorite shot of the day, but probably one of my favorite shots that I've ever taken of a couple.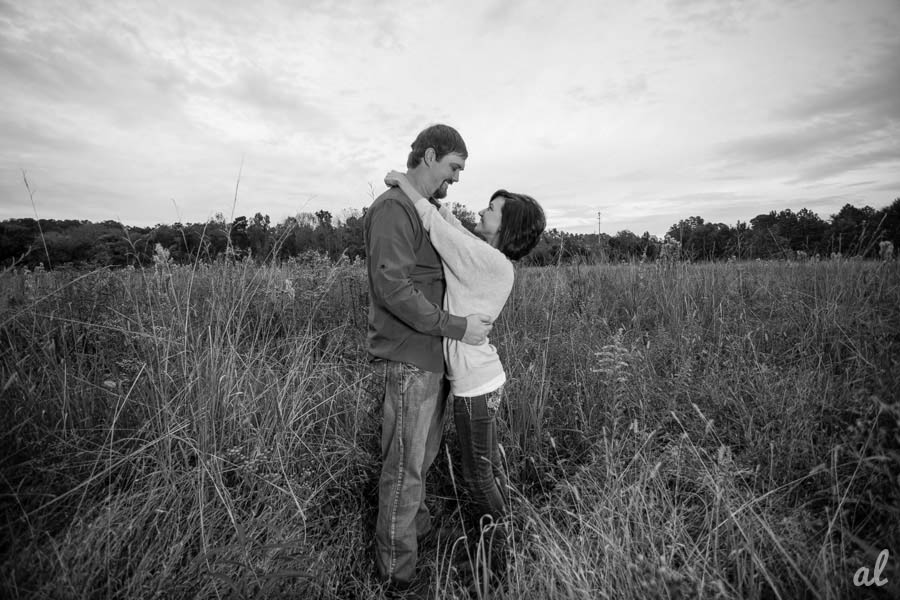 As I mentioned earlier, this location had been inhabited by a photographer before. So we took advantage of one of the scenes at this location, which someone had so nicely cleared out for us. Minus a few ant beds and those annoying sticker things that get stuck all over your cloths, this was perfect.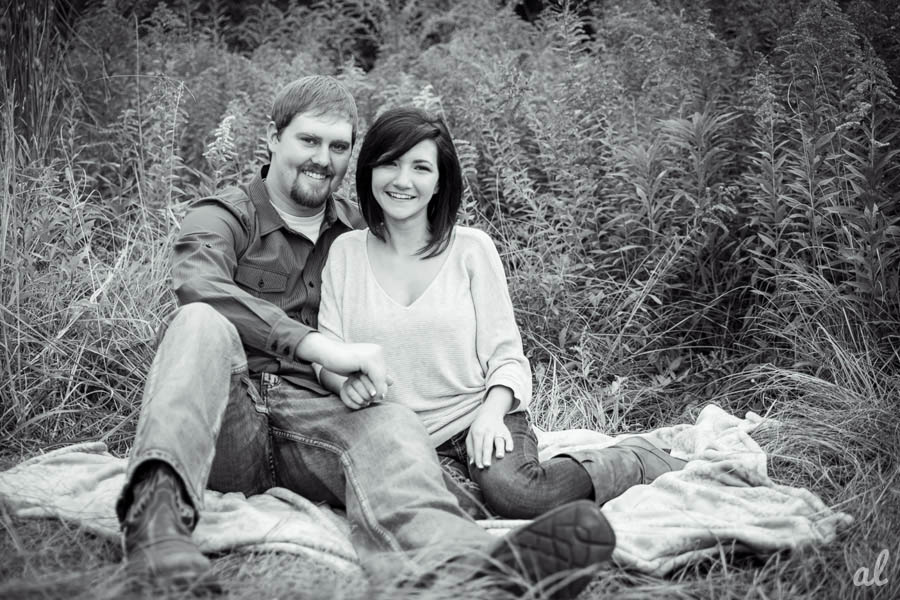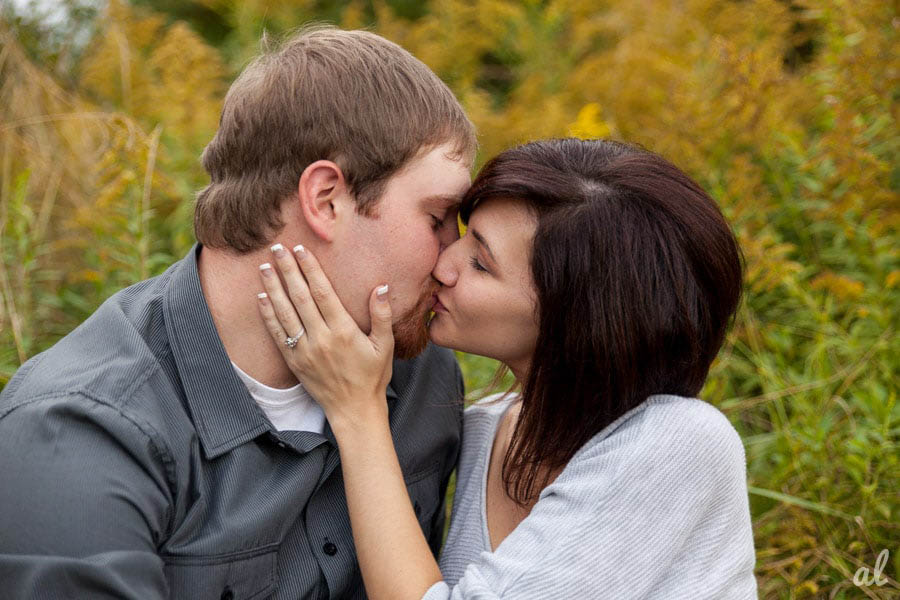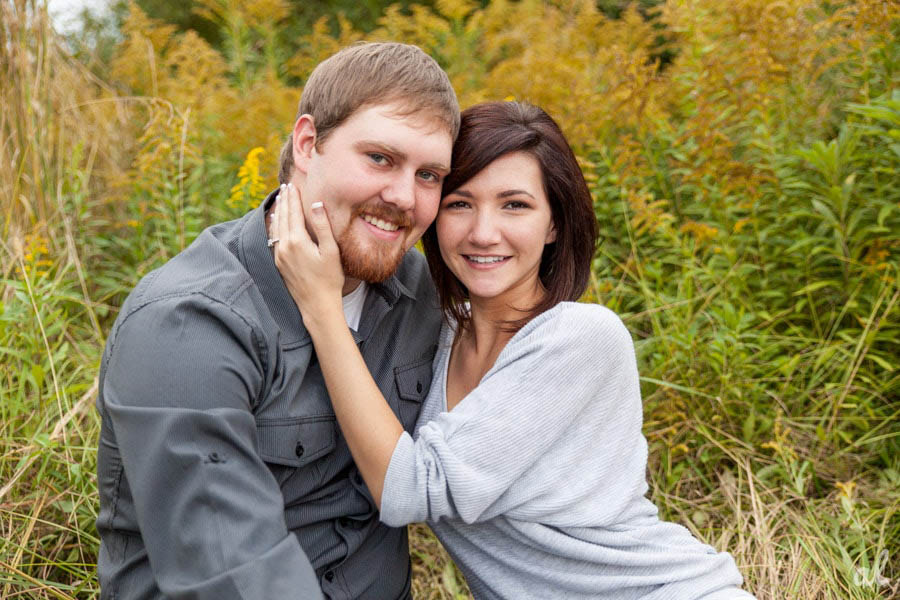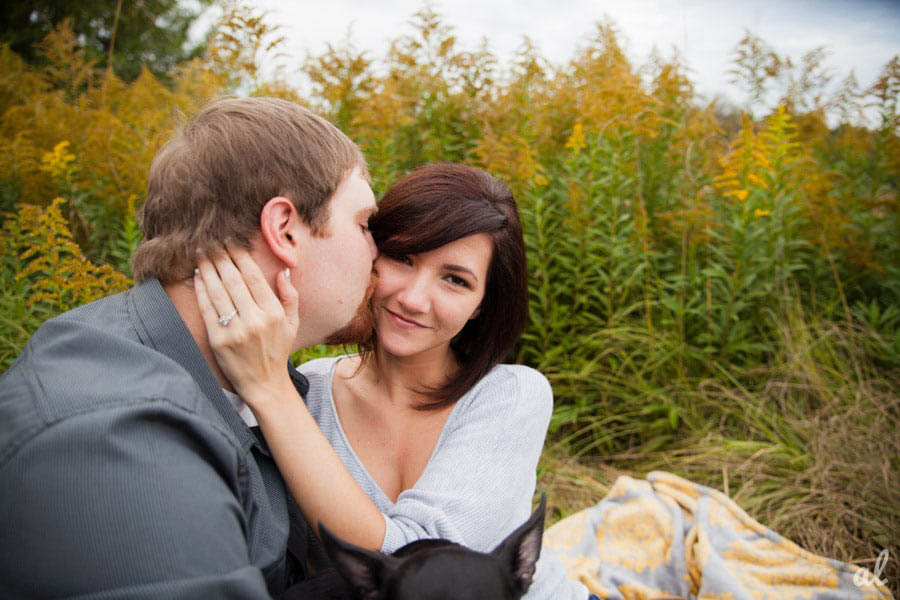 During the shoot I heard low voices through the brush and noticed that we were not the only ones at this location. Another photographer from the area was shooting beside us. She was pleasant and polite to make sure we didn't disturb one another. It was quite enjoyable to meet an unfamiliar photographer from the area considering the fact that some photographers can get upset when other photographers work around them. It was nice to know she was gracious enough to share the space.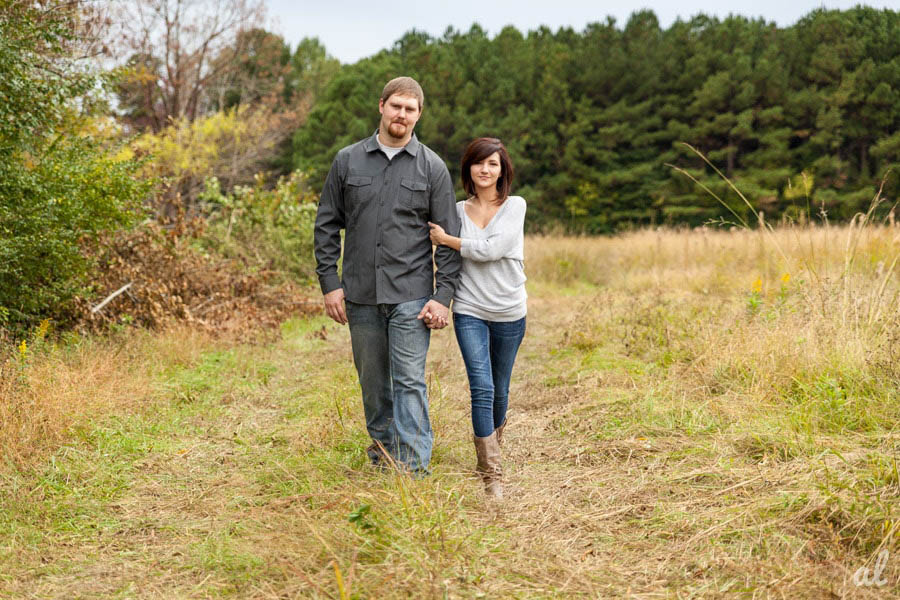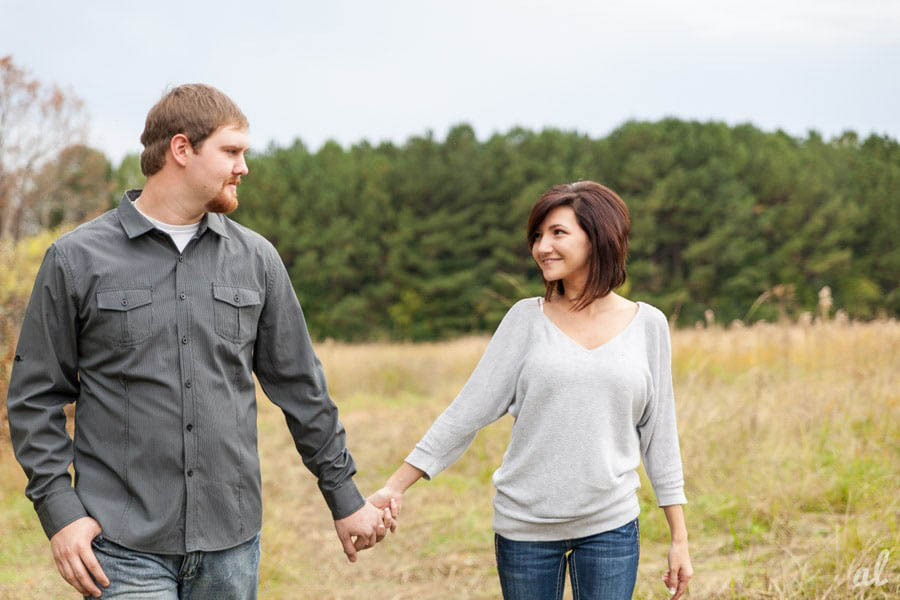 Oh I forgot! This was a first for me as a photographer – a couple bringing their pet along. Spooky, a pit bull Chihuahua mix ( Yes I did say Pit,Chihuahua mix) , was a very fun addition to the shoot. We greatly appreciated his own spontaneity he provided to our photo opp.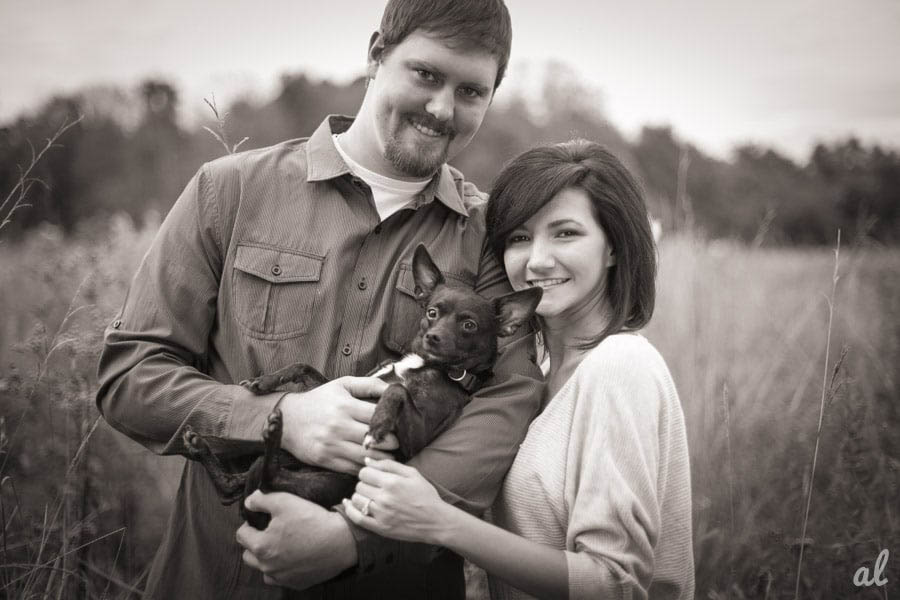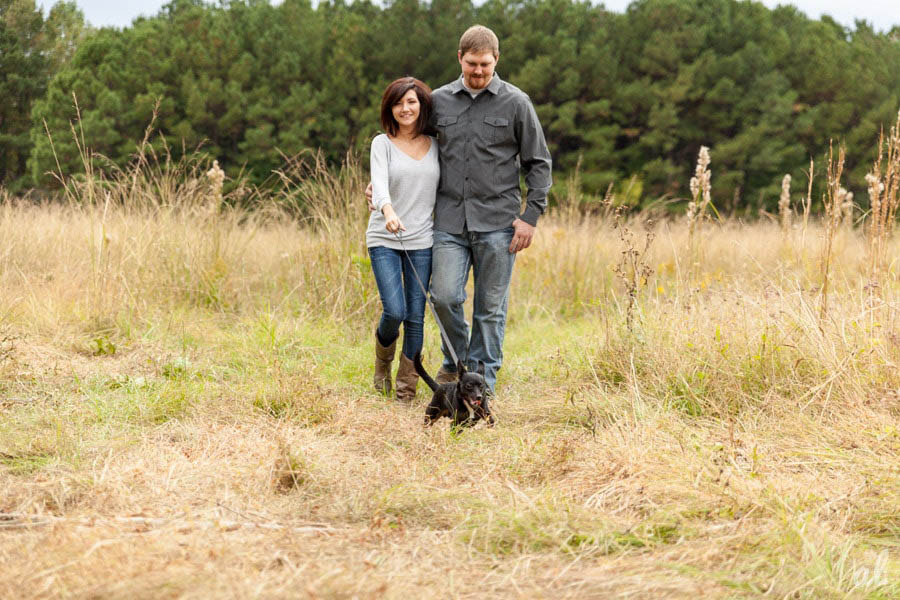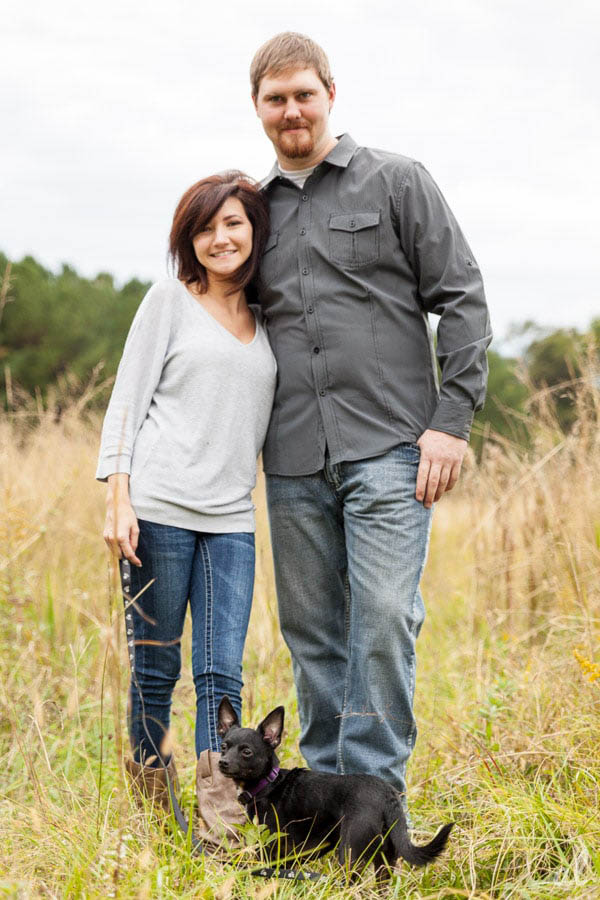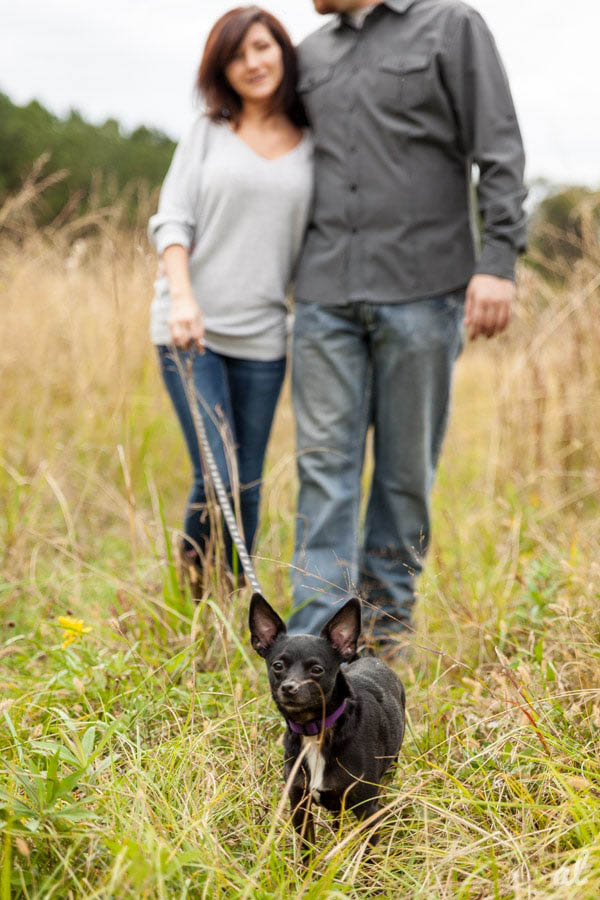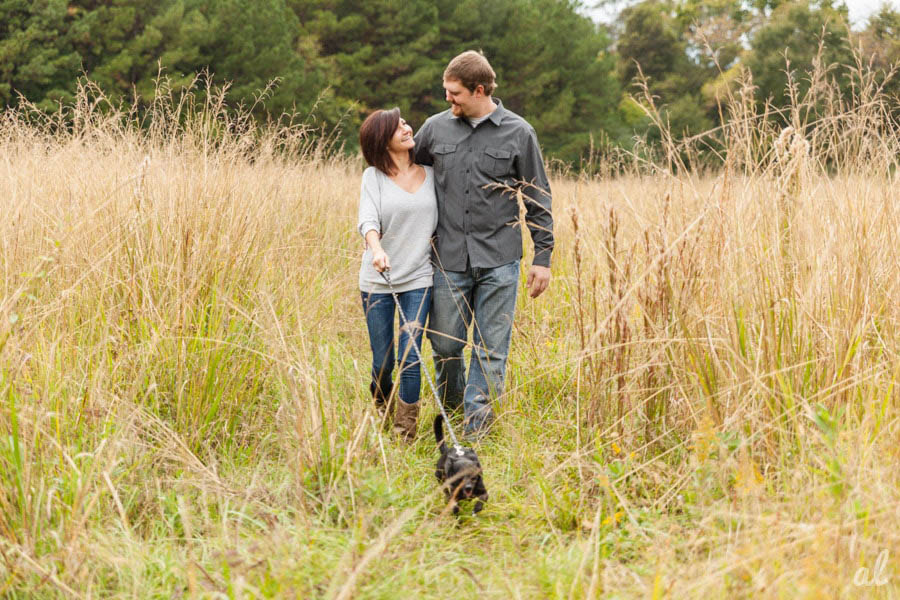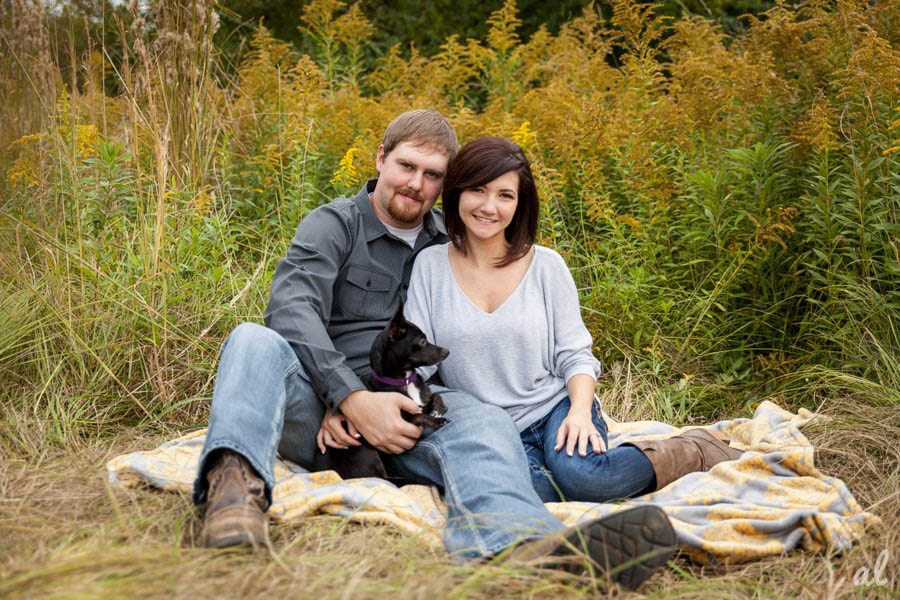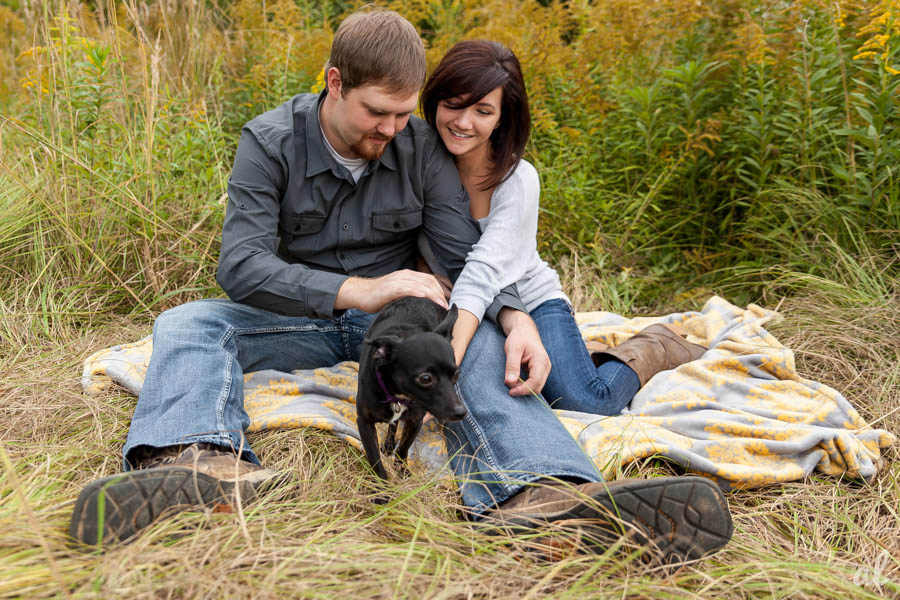 After wrapping up at our new found location we moved to the original planned location. Where we did a few shots they wanted for their Save-the-Dates.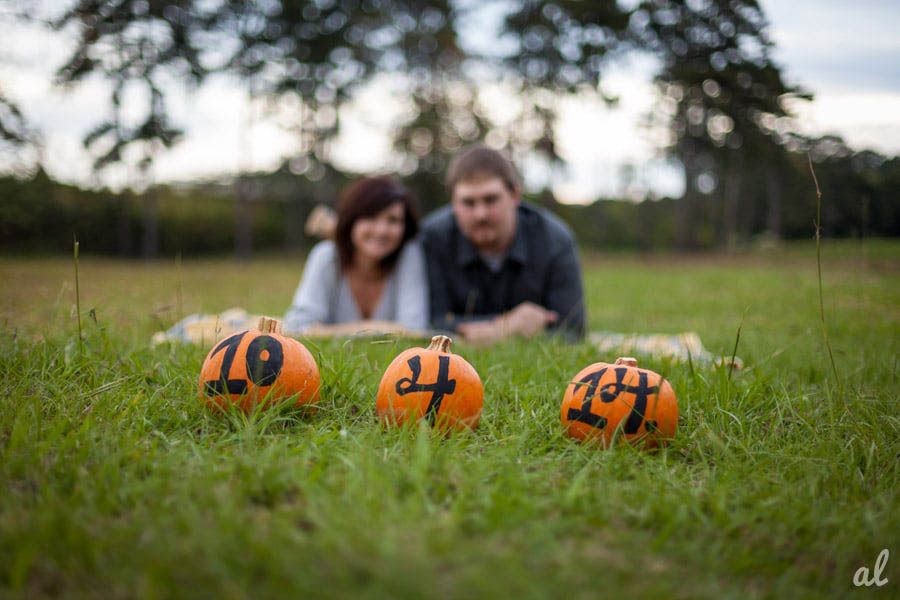 Luckily, the clouds we mentioned earlier brought some rain as we finished up the shoot and didn't rain on our parade or should I say rain on our photo shoot.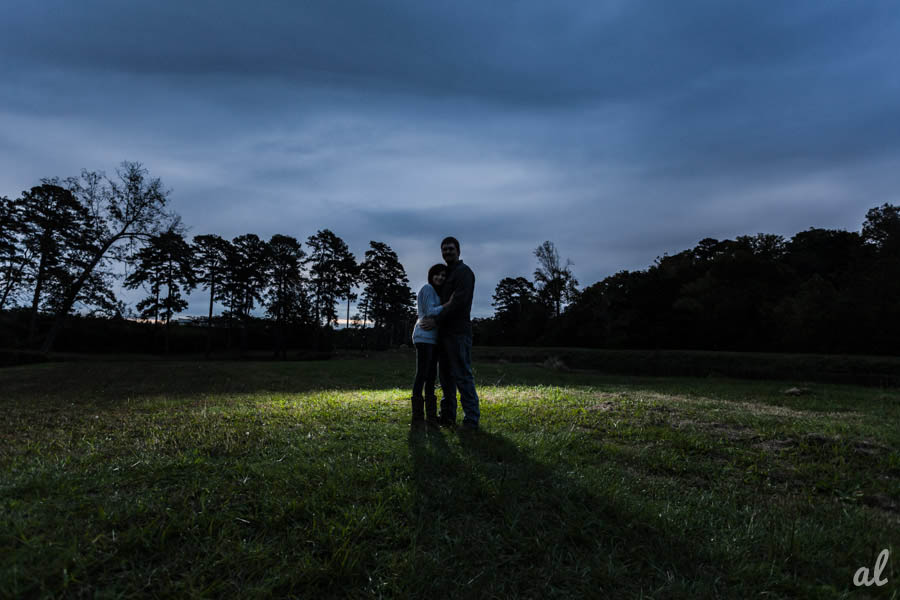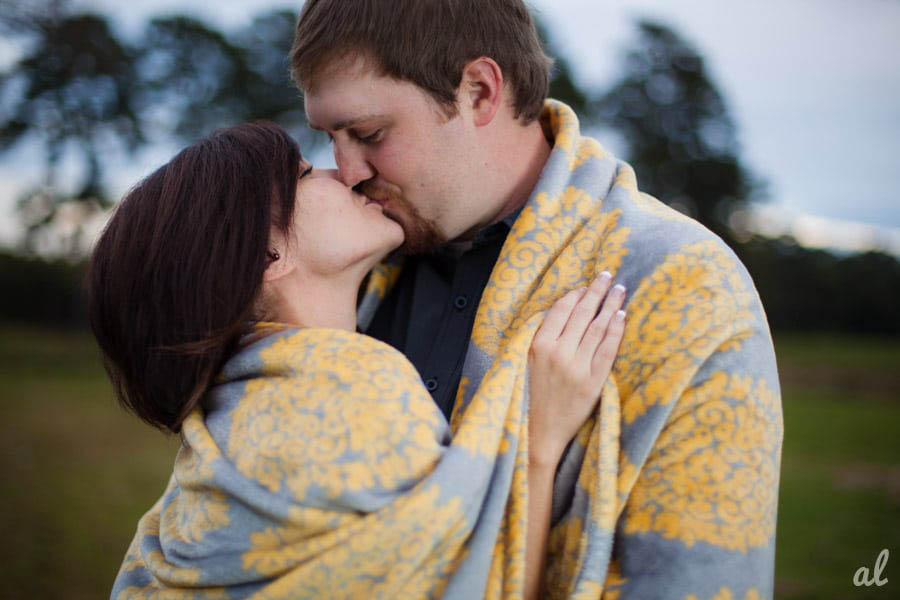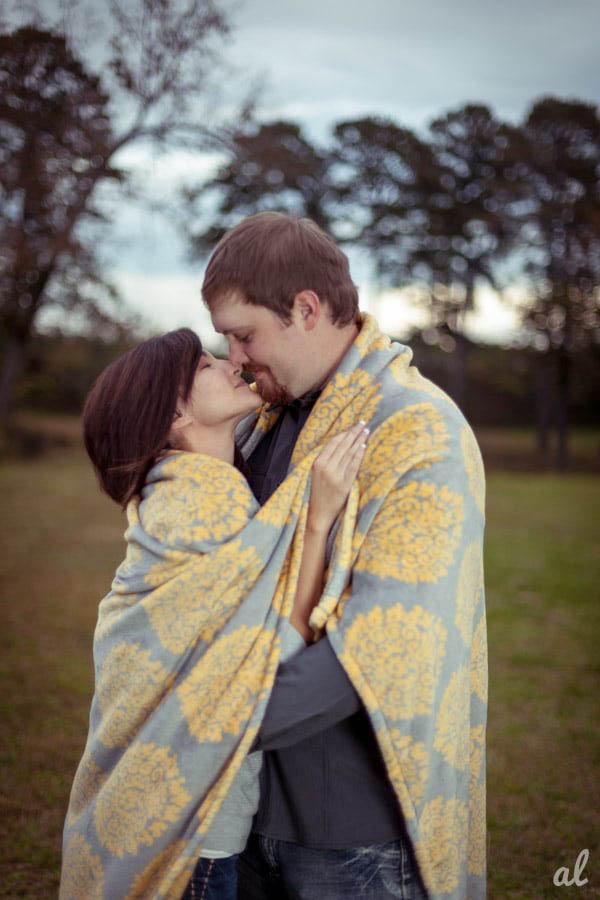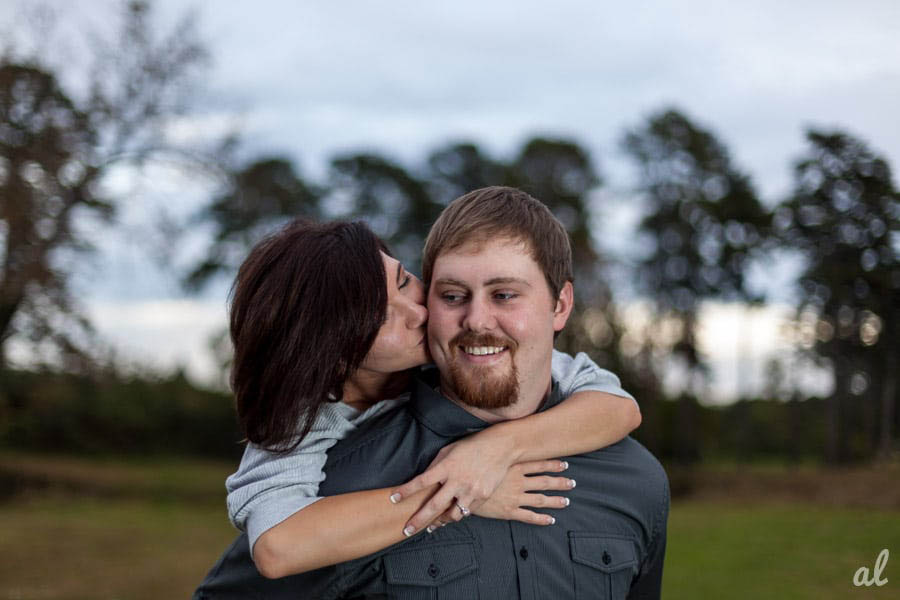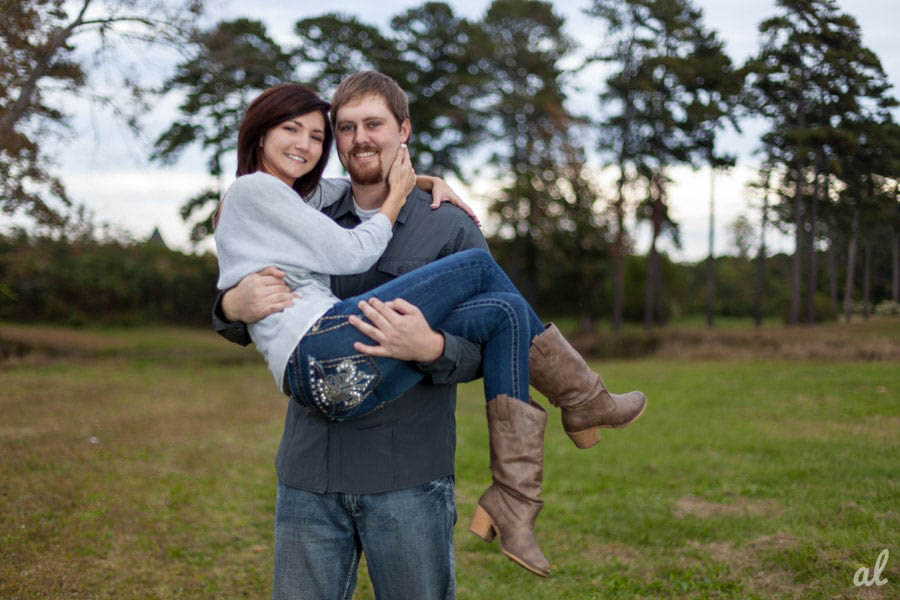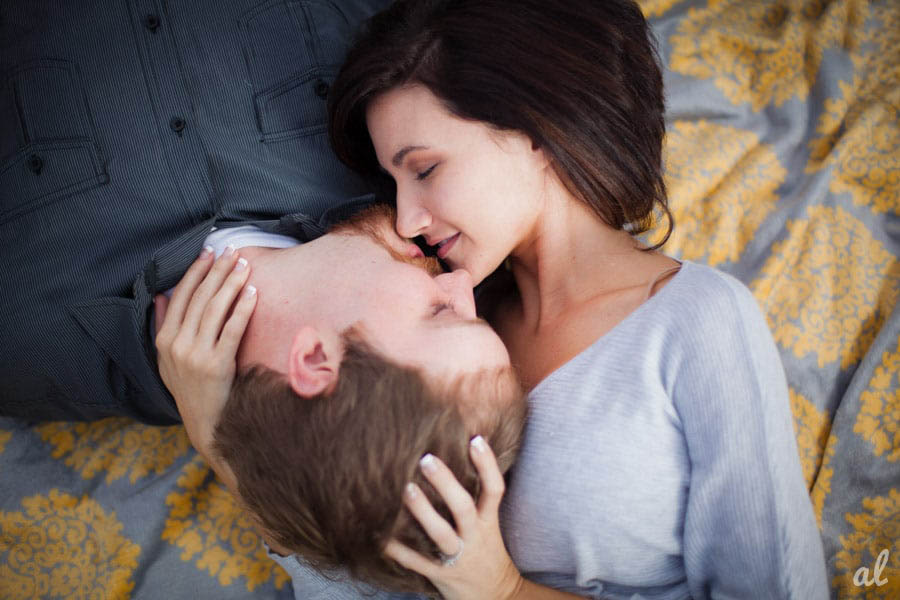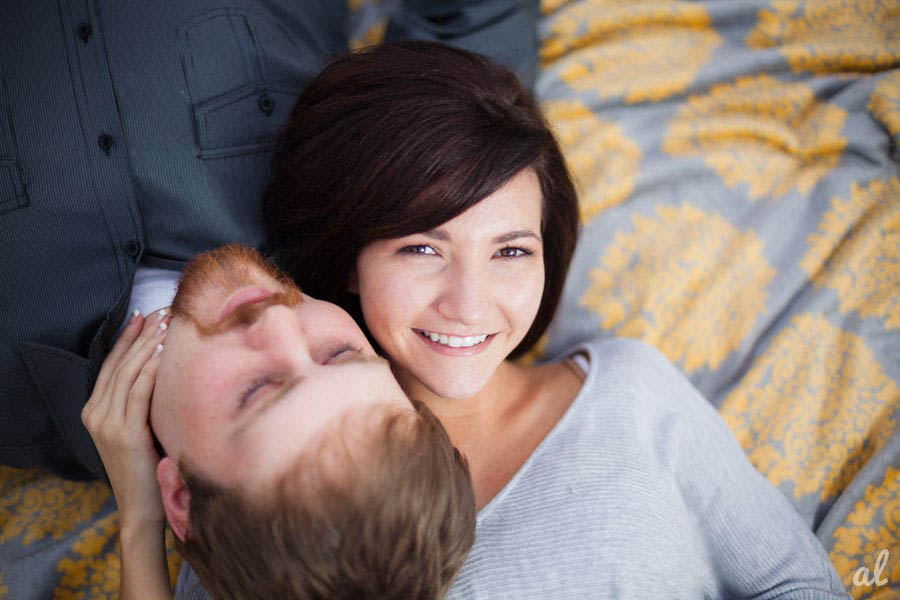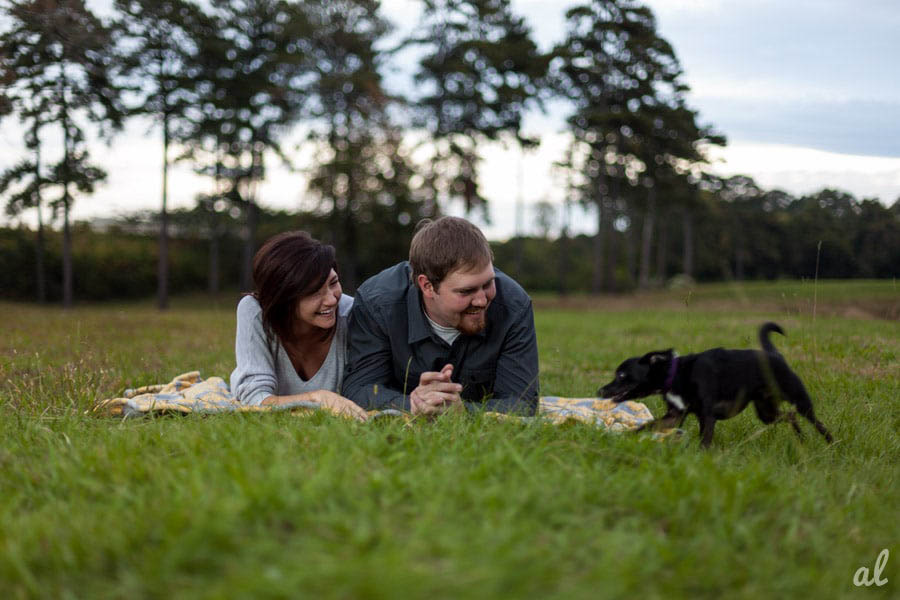 This shoot was hands down the definition of a successful session. Britini and Dustin had a blast, Sara and I were ecstatic, and Spooky… Well he seems like he could create fun anywhere he goes. Although I don't think the geese liked Spooky too much but he sure enjoyed them.
I finish this post saying. Stay creative and don't be afraid to be spontaneous. You never know what will come of it and I can guarantee it will always be more fun!
Until next time, thank you for reading.
-Alex
Al Weddings