First off, I know what you're thinking and no these two are not paid models. Even though it may appear that way. Danielle is in beauty school and Josh is an engineer. Maybe these two have a future in modeling if those careers don't work out. But seriously, this session was a blast. It was the first couple's session of the year for us and I think it was a perfect.
This was our first time to use this location so it was an adventure for all of us.
The date we picked was actually their first date anniversary but we were taking pictures for their one-year marriage anniversary. The session started with Josh and Danielle sitting in a hidden ant bed. I think we all got bit at least a few times but Danielle might have gotten the worst of it. I warned them that it would be an adventure but I didn't think it would be one involving anyone getting bitten by ants. Luckily, it wasn't too bad.
All this excitement happened within the first few minutes of the session but that didn't keep these two from having a blast. Danielle and Josh constantly were cracking jokes and picking on one another. Which had Sara and I rolling in laughter.
This session reminded me a lot of Dustin and Britini's engagement session I did a few months ago. Oh did I mention Britini and Danielle are friends and go to school with each other. Their relationships are very similar to one another. I love it! Probably, cause Sara and I act the same way. Never really taking anything serious and picking on each other.
The thing I like most about couples like this is; one- I love when a couple just pretends like I'm not there and I can just capture real moments and two- there is never a dull moment and the session just flies by. The session is filled with you laughing so hard that you have tears and your side hurts.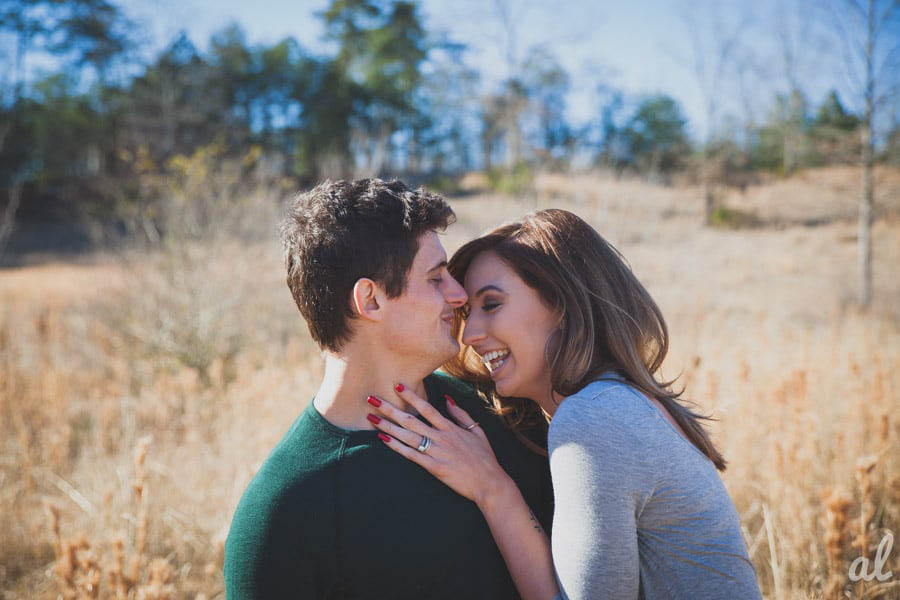 I hope this is an annual thing with these two. I'm glad this couple brought in the new year of Al Weddings, right! If this is a foreshadow of the rest of the year, all I can say is, I cant wait.