A schedule is going to be your best friend on a wedding day. Regardless if you're the photographer, bride, planner or wedding party. You NEED this. That can be a little tedious to do, but I have something at the end of the blog that will help you make the ideal wedding timeline. This is mainly geared towards fellow photographers since they are the ones that should be helping brides with this. Especially if they don't have a planner. But this can totally help brides as well if you're trying to plan your wedding day.
So let's break this down into two classes. 1. With First Look 2. Without First Look.This is most likely going to be the two biggest factors to a wedding schedule.
First Look:
When doing the first look, your client's schedule will probably be a little more front loaded meaning you will need more time before the ceremony. This is because you're knocking things out right off the bat. The first look allows us, the photographers, to do things like family formals, full wedding party photos, as well as some couples photos. All before any guests even arriving at the ceremony.
The pros and cons of doing a first look is a blog for another day, but one of the biggest pros is so you get to your client's reception quicker after the ceremony. Without a first look, we have to do all the family formals, full wedding party photos as well as your sunset couples photos after the ceremony.
For photographers (in my area) a typical wedding day is about 9 hours. That lets us cover nearly everything. 9 hours is ideal because it gives us 4 hours before the ceremony and 4 hours at the reception with an hour in-between for the ceremony and couples photos. There are plenty of exceptions to this, and we book a good many 10-12 hour wedding days each year. It just all depends what all you have planned for your wedding day. Things like multiple wedding day locations, large wedding parties, lots of family formals can dramatically increase your photography coverage.
Without First Look:
We still recommend 9 hours of coverage for non-first look weddings. Sometimes you can go to 8 hours of coverage but generally, the coverage time is the same. With a NFLW (non-first look wedding) we usually arrive 3 hrs before the wedding. Remember, we're cutting out first look, couples photos, Large wedding party setups, and most family formals before the ceremony. Which then adds close to a 1.5 hours after the ceremony just for photos. That doesn't count any travel if your ceremony and reception are at different venues.
Note* Some photographers will do some family formals before the ceremony when not doing the first look. We try to avoid this because this makes those family members get to the wedding early and stay after the ceremony because the bride will is probably  going to want a photo of that same group with her new husband as well. It keeps you from taking the same photo twice essentially. But if this is something your client wants, obviously adjust the timeline.
Here are my tips for an ideal wedding timeline:
-Hire a wedding planner or at least day of coordination. Some venues provide a "coordinator," That's defiantly better than nothing, but I would hire someone who does planning and coordination for a living, like Ashley Stork from I Do, I Do Wedding Planning. If you want the ultimate stress free day, Hire her! For real.
–Hire a photographer who helps make a timeline for his hours of coverage. We do this with all of our clients.
-Figure out how long things take before setting a time for them. Meaning, don't just tell the makeup artist to get there at noon. Figure out how long it takes and plan accordingly for your photographers. Other things like longer than usual ceremonies need to be prepared in advance. If you are doing a full Catholic Mass and your ceremony is going to be an hour long, let your photographers know in the beginning. You need to coordinate your longer than the usual ceremony with the sunset time. So your couples sunset photos aren't past sunset =)
Things that make wedding go off course:
-We tell this to every bride. Hair and makeup are hands down one of the biggest reasons your schedule will go off track. It's the first thing that can go wrong and it's the first thing that will go wrong if you don't know how to prevent it.
Hire an actual wedding hair and makeup artist. Like, for real. One who does this weekend and week out. Someone like Gypset Beauty Co. or The Look by Brittney Shelton. These guys know exactly how long things will take and have you looking your best. You also won't have to worry about touching up your makeup. I don't know a lot about hair and makeup, but I do know that whatever these girls do for the clients we've worked with, keeps them looking fabulous ALL day. Your groom won't is wearing all your makeup at the end of the day as well which is a plus!
-If everyone is not on the same page…
This is a big one. If Aunts and Uncles don't know what time family formals are then how can you stay on time? Give everyone that in the wedding or a part of the wedding a copy of the schedule.
-Not accounting for travel…
We shoot plenty of weddings that getting ready, ceremony and the reception are all at different locations. Google Maps the time of travel and then add about 10-20 minutes extra in case of traffic or someone runs late.
——
Making schedules used to take me so long and I knew there had to be a better way to do it. So here we go. Here is my schedule making process.
I made an Excel document that I type in our arrival time and it auto calculates our predetermined times for each event on a wedding day. Of course, this always needs a little bit of fine tuning, but it gets you super close to what the timeline needs to be.
You can download my template here: Excel or Pages
Here's how it works:
All you need to know is what time the ceremony is, what time the exit is, and if you (or your clients) are doing a first look.
Let's say your clients are doing a first look and the ceremony is at 5:30, subtract 5.5 hours from your ceremony start time and that's your estimated "photographers arrive" time. Enter that time into the corresponding column and BOOM. It will generate all the times for you.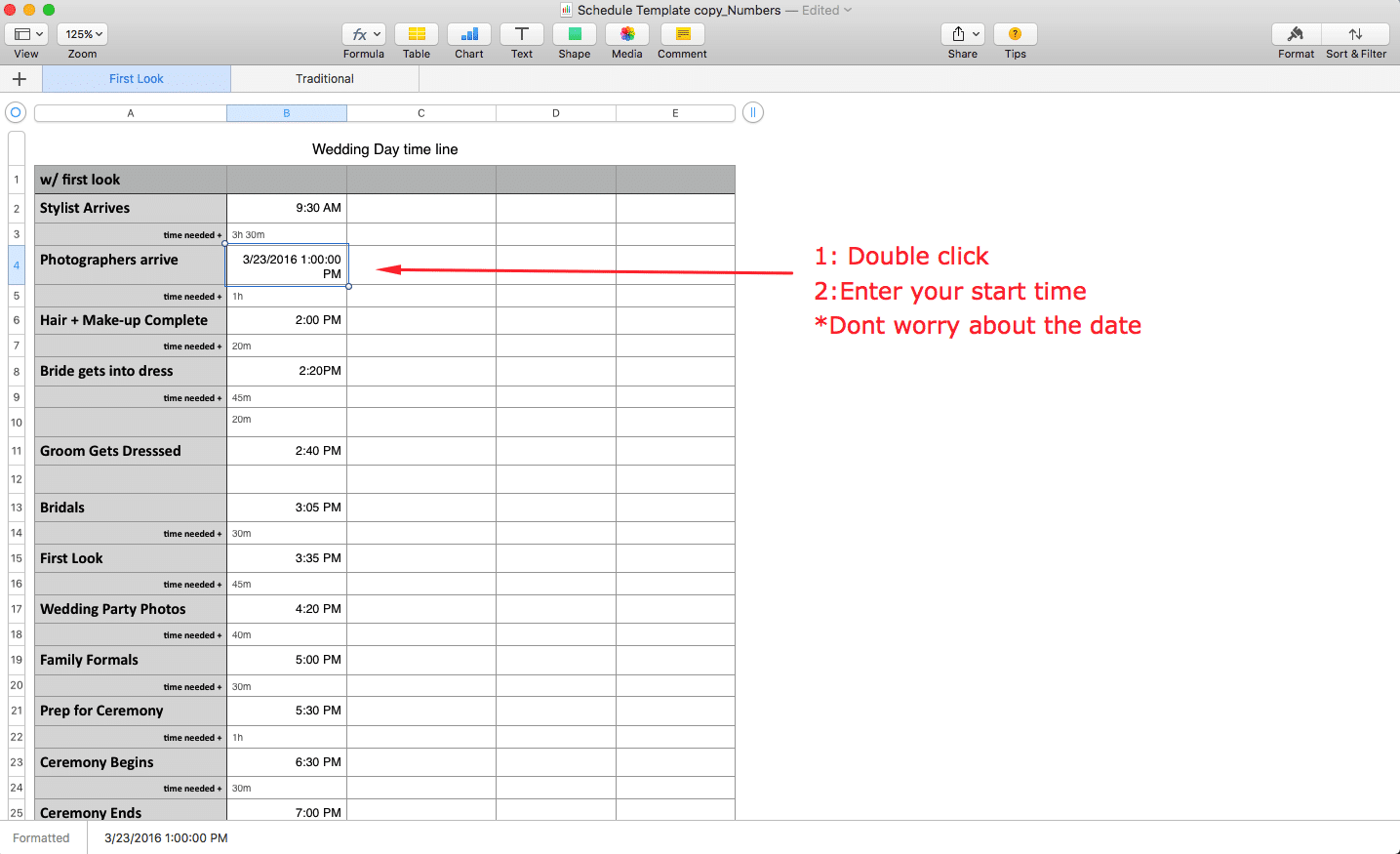 Then make sure the exit time is correct. Go through and make sure you don't need to take anything out or adjust the "time needed."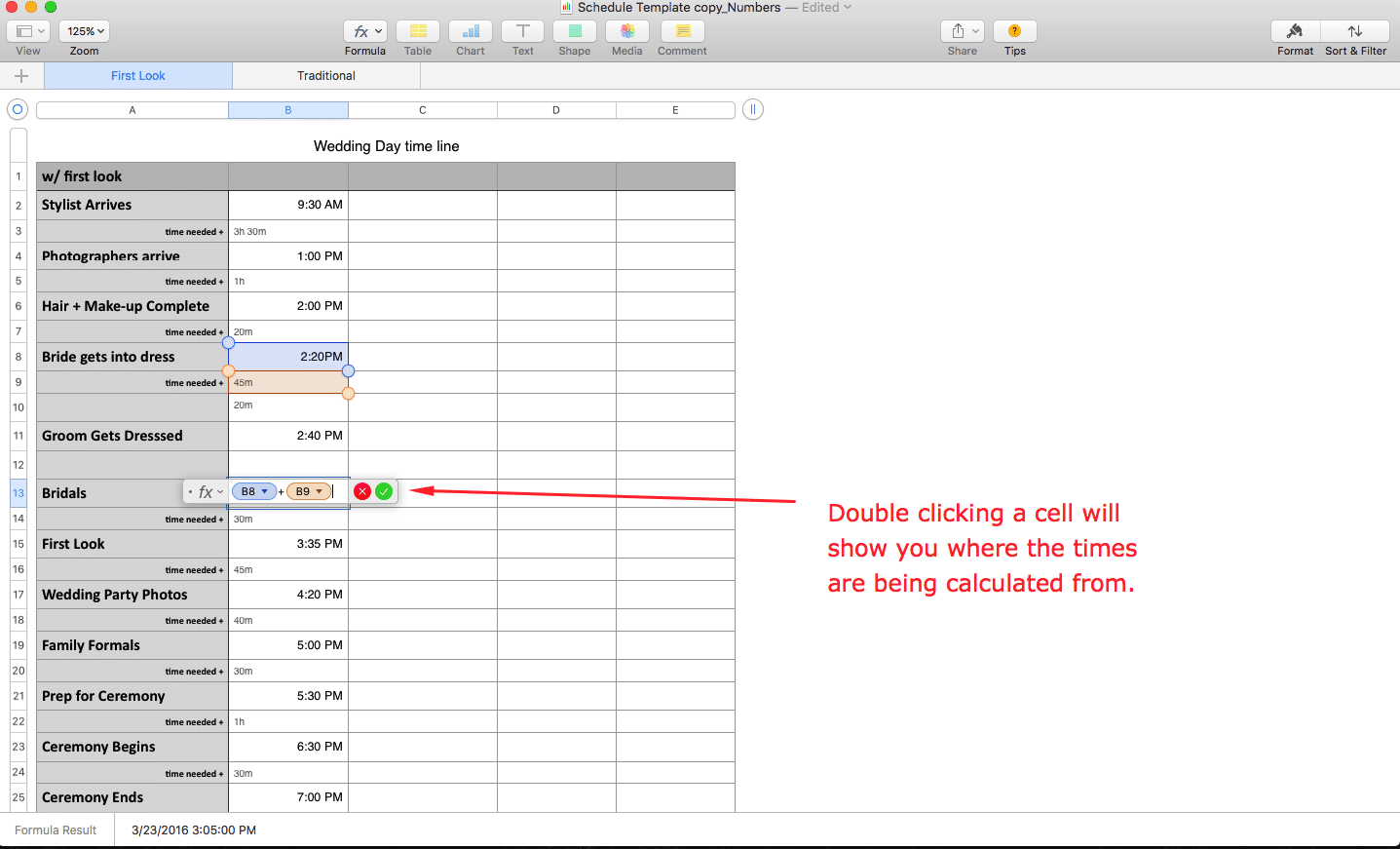 If you don't need 45 minutes for bridals you can change it to 30 minutes and it will update the whole schedule. That goes for anything else in the schedule. Chances are, you will have to fix some times but this will get you started.
I then go into Word and retype it to make it pretty, but that's entirely optional. Pretty simple right? Much better than trying to add time together and reference notes that you made at a consult nine months ago. Simple and quick.
Hope it helped,
-Alex