So it's been awhile since we've updated this post. Almost a year and a half to be exact. I think it's time to update it would current trends and new tips we've learned over the past year.
So, you found your photographer and the engagement session is booked … Now what?  If you're anything like me you start searching the internet, aka Pinterest, for fun props and ideas about your upcoming photo shoot.  Many of these things come easily; however, clothing was something that made me ponder for weeks (yes, weeks) about what to wear.  I visited many of the local stores and malls in Birmingham, walking from Forever 21 to Belk to Nordstrom then giving up completely realizing as a casually dressed person … I had no clue what to wear.  Not to mention I would come home and just stare at the shoes and clothes flung around my house because I wanted to find something a little dressy not just the usual jeans and a Ralph Lauren V Neck Polo.  I will say if you are in this position right now … take a DEEP breath as it will be fine.  I was looking into it way to deep and finally found some items that  we were comfortable in and the shoot was quick and painless. So after doing the research and knowing what shows up great on camera; we have some tips and tricks to make it through your engagement shoot stress free and LOOKING GREAT!
Tip #1:  Match your Location
Selecting where the shoot will be is probably already in your head before you book the shoot or at least you will have some suggestions of a style you like.  So if you have decided on a park type setting to have a picnic it's best to wear something a bit more relaxed; however, maybe you decided on an urban or city setting in this case your style may go more dressed up to match the location theme. It would be okay to wear your favorite cow girl or cow boy boots to a country location, but maybe not fitting if you decided to take pictures in your favorite rustic downtown spot.  Make sure you both match each other on style as well.  If he wears a button down and slacks, ladies don't step into your favorite skinny jeans, flats, and tank.  This goes the other way too; if she is in her best heals and dress, guys do not get into your favorite 10 year old holy jeans and a t-shirt.
↑ As you can see Brandice & Aaron did a great job with this. They did a downtown engagement session with 2 different locations. It wasn't their style to get supper dressed up but a nice dress for her and a button up for him is perfect! It fits their style and isn't out of their comfort zone.
↓ For their second location we went to the Light Tunnel in Birmingham, Al. Their comfortable clothing and bright tattoos made this location perfect for them.
Tip #2:  Coordinate don't Match
If you are sitting around a pile of clothes thinking "we don't have anything that matches" … Good.  It's best to coordinate or compliment each other when you are looking at what to wear.  So once you have picked your favorite shirt or dress find something for your better half that is in the same hue of color or complimentary of that color. So stay in the same color group of "blue" if she decides to go with a solid blue navy dress then guys, you can wear a lighter blue plaid button down or another color that just compliments that navy dress.
↑ As you can see Liz & Anthony did this perfectly! Be aware that clothing with really small or fine patterns or prints may not photograph well. Sometimes even causing an effect called Moiré. This effect is very very hard to fix in post production. So if you are wondering if the pattern might do this, please ask us. We'll talk more about this in a second.
↑Devon & Matt decided to go for more of a complementary look. The lighter blue and pink go perfect together. To jump ahead a little. Devon did a great job layering. You'll learn about that later in the blog.
↓ Orry & Jacki also did a great job. Again keep it simple. White is a good choice. We love the bright colors but sometimes a white button down works perfect or white cocktail dress work perfect. If one of you do wear plain white, try to decide on some texture for the other person to wear. Orry did a looked great in his white button down by adding the suspenders while Jackie complimented him with a lighter grey pattern dress. Again check out the layers they both are wearing.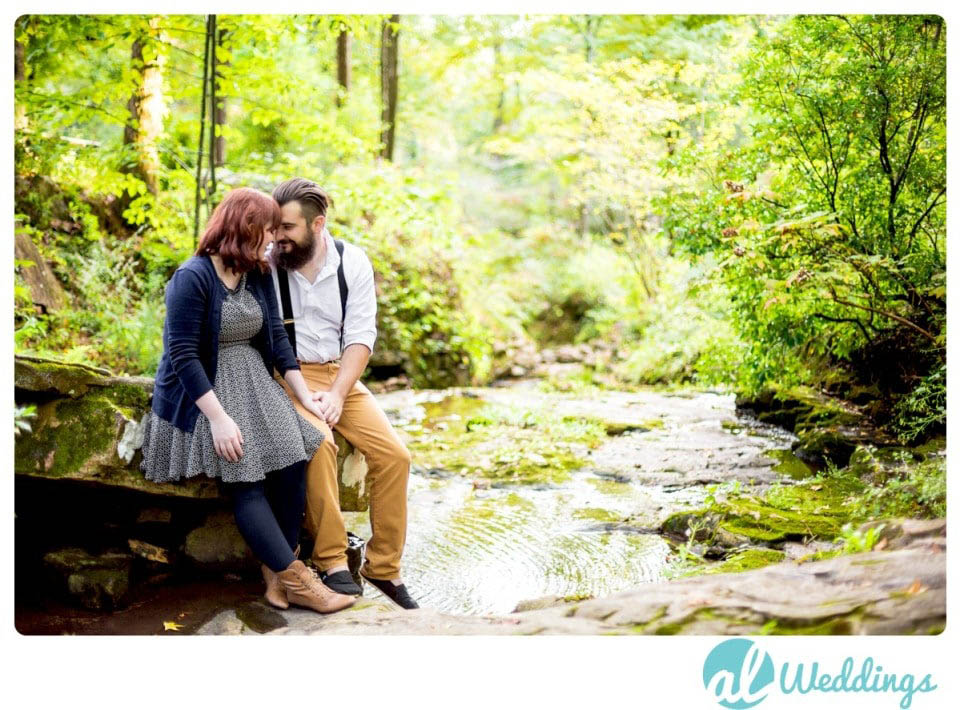 Tip #3:  Know your Body
This may take a little effort on your part to do a little extra research on what your body type is.  It is hard to go into specifics; however, we can almost bet not everyone is gonna be picture perfect in shorty shorts and a tube top.  Sometimes the clothes that are more fitted will make you look bigger than you actually are … Yes, the camera does like to add a little, but no worries we photographers also know our fair share of tricks to take the best pictures possible.  I found a great website that will give you and your body type a few ideas what will work best, click HERE to view.
Tip #4:  Keep it Simple
Try to keep all the crazy patterns at home for this one.  The camera tends to take in a much better picture when there are simple patterns and solid colors.  So a simple large plaid pattern, stripes, or polka dots are good example of simple patterns.  However, some of the more busy patterns will cause an effect called moiré.  As always we want you to be the focus of the picture and sometimes distracting patterns and colors can take away from that.  I am always a fan for pop of colors if they go with what you are wearing. TIP – For some reason some cameras can intensify colors. The main one being bright red. This is rarely a flattering color because it really catches the eye and take the focus off of you. Sometimes it works sometimes it doesn't. My favorite color is red but not for clothing ( except for my favorite Alabama Football shirt – ROLL TIDE!) I think muted clothing with a splash of color is the best!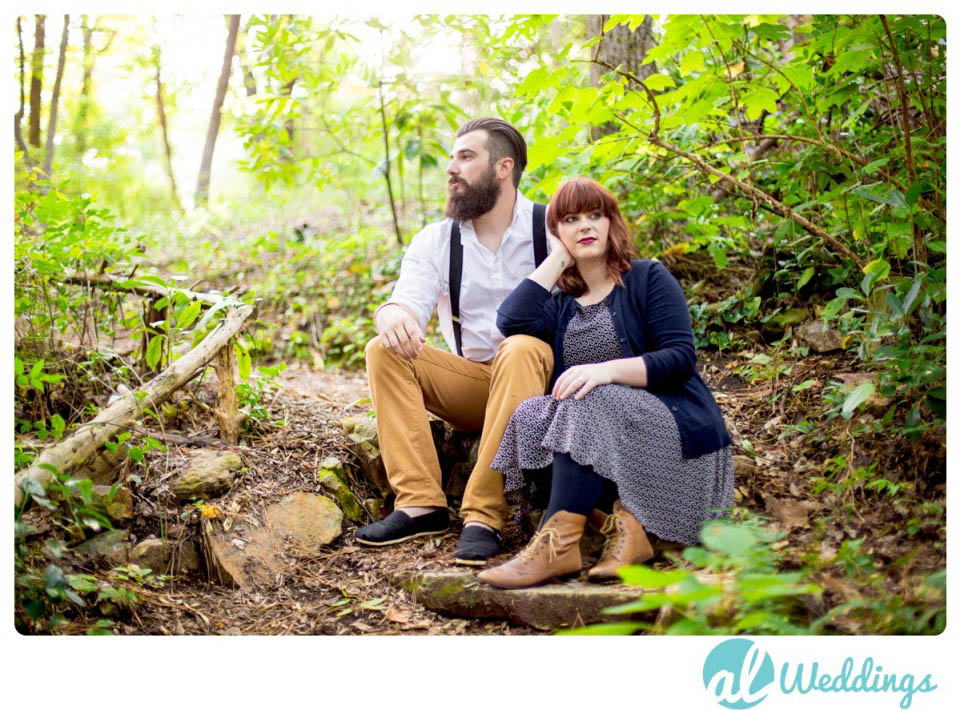 ↑ As you can see Jacki did great with her patterns. She also added a pop of red lipstick which, looks great.
↓ Same thing with Devon and Matt. He wore a similar shirt to Orry but Devon wore a nice blue textured dress with a splash of red fingernail polish.
Tip #5:  Layer it Up
AND ACCESSORIZE!  Layering with a scarf or cardigan adds interest to the lady on camera and same goes for the guy, a nice blazer or tie would compliment and add interest to him as well.  Layering is also the best time to add your pops of color and fun which is always a great thing.  For example, if you have an awesome yellow cardigan try wearing a more simple neutral pattern or solid shirt and maybe pair with some jeans if you're going for a casual look. We love jewelry! Dont forget to wear that nice watch or throw on a pretty necklace.
Guys! We love your jewelry as well. Matt showed off his school ring during his engagement session. *cough* Roll TIde *cough* = )
Tip #6:  Casual or Dressy??  BOTH!
If you are standing in front of 2 great outfits and can't decide which to wear … Bring both! We prefer that. We usually start with your dressy clothes and then move on to the casual clothing halfway through the session. It may add a little more effort; however, the outcome is  priceless!! Plus it makes parents happy. They love the dressy photos = )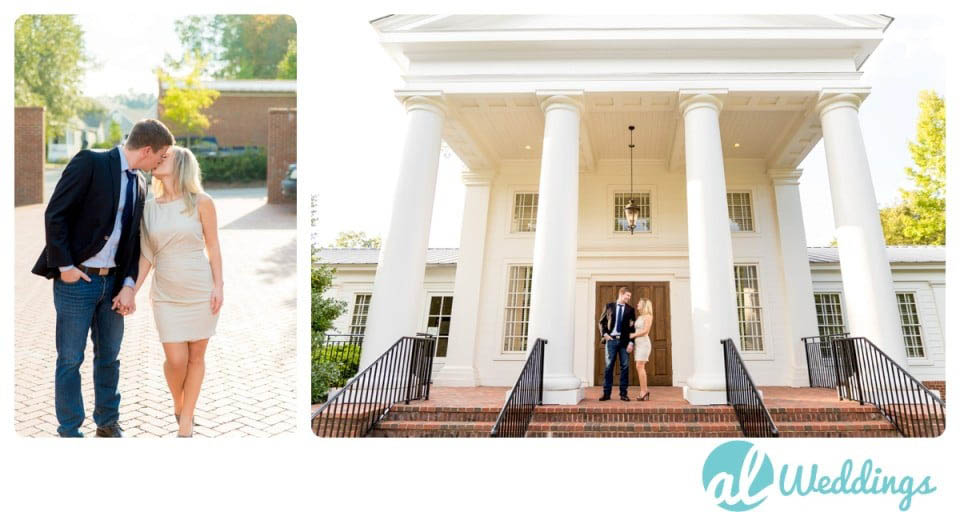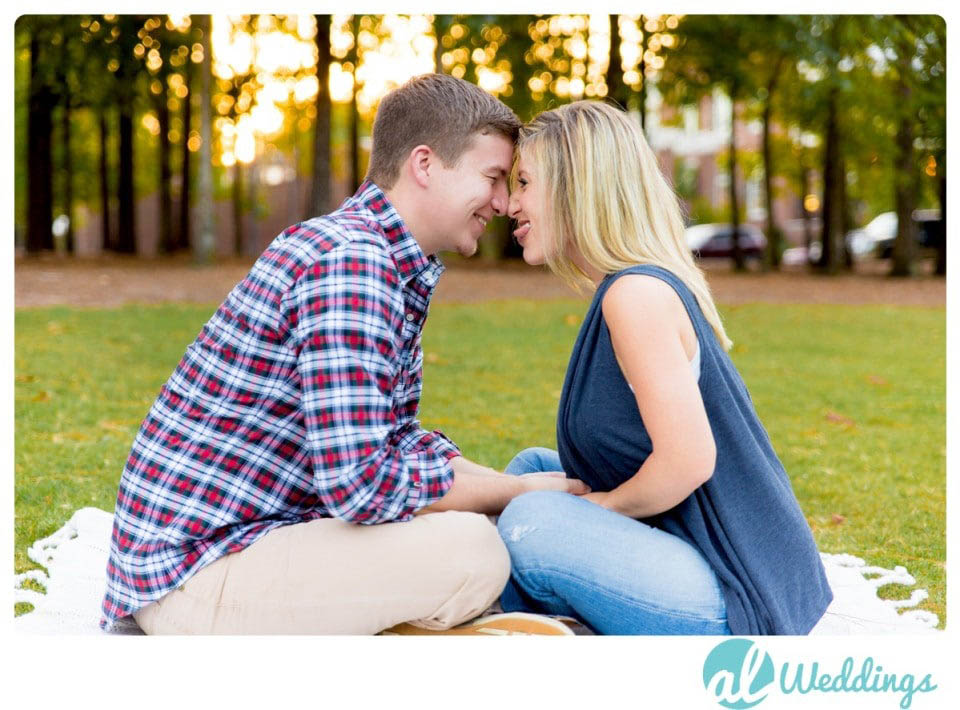 Tip #7:  Bring Props!!
We love props!!  You can find many examples of props all over the internet; however, make sure it connects to who you both are and your personality.  Some couples love to read … bring some funny books.  If your thing is to go biking or skateboarding bring those as well.   We also encourage the addition of furry animals that are very much apart of who you both are.  We love pets; however, just keep in mind they may not be able to sit in the car for an hour after we are done shooting them.  We can always make it work so do not hesitate to bring it up so we can make plans accordingly for location and time. Remember Pinterest is a great place to get inspiration BUT chalk boards and scrabble pieces are pretty overdone now-a-days. We want all of our couples to have something original for them. Something that you can put on Pinterest and make other couples want to copy you. Not the other way around =)
Tip #8:  Be Yourself, Be Comfortable
At the end of the day if you wore something that is not you and felt way out of place then it will show in the pictures and on your face the entire time.  So be yourself and pick something comfortable to wear.  We want you both to have fun and enjoy the time we spend taking pictures.
What NOT to Wear …
No bright white matching shirts with khakis. No big logos or writing on the shirts … It will take away from the picture . Avoid short hemlines on your shirts. Avoid short skirts and Avoid Black – it tends to attract every spec of dirt and hair, although flattering for your body it does not capture well; however, feel free to try a dark grey, purple, or blue … Not all darks are bad.  and GUYS please remember to take your hat off well before you session. I promise, your lady will not be happy if you have hat hair during your engagement session. Save the hat for the casual portion of your session.
But overall remember you are getting your pictures taken, look good and be yourself.  The more fun you have at the shoot the better the pictures turn out.  So maybe laugh for absolutely no reason or act silly with each other.  We love to capture your memories and are honored to be there sharing the moment.
Bonus Tip:
Most of the time your engagement ring will be nice, new and clean. But sometimes you wait several months to get engagement photos done or maybe you're getting some anniversary photos taken. Be sure to take your ring to get them cleaned and buffed. Most of the time it's free if you take it back to place your man purchased the ring. If you make sure your bling is nice and shiny, we promise to get you some beautiful ring shots.

View all of the pictures from our engagement session Here
-Sara